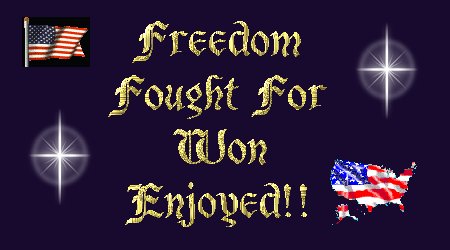 Movie sequence takes time to load,
Please wait? It is well worth it.

God Bless America Again
Loretta Lynn & Conway Twitty
The Star Spangle Banner
U. S. Air Force Band
Why I Love Her
John Wayne
Let America Ring
John Wayne
The Pledge Of Allegiance
John Wayne
Taps
John Wayne
Battle Hymn of the Republic
Lee Greenwood
God Bless The USA
Lee Greenwood Dixie

Dixie
U. S. Marine Corps Band
America The Beautiful
Elvis Presley
Ballad Of The Green Berets
SSG Barry Sadler
Over There
James Cagney & Francis Langford
I'm A Yankee Doodle Dandy
James Cagney
FaceThe Flag
John Wayne
America The Good
John Wayne
U. S. Army Service Song
U. S. Army Band
U.S. Navy - Anchors Away
Navy Seals Band
U. S. Marine Corps Hymn
Mormon Tabernacle Chior
U. S. A. F. Wild Blue Yonder
U. S. Air Force Band
Only In America
Brooks & Dunn
My Country Tis of Thee
Lee Greenwood



This Page Created and Designed
By; Fox Creek Designs and
Anoki's Den Designs
November 14, 2001
And Dedicated to Americans Everywhere!